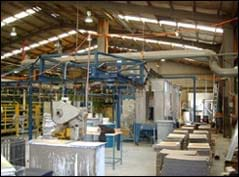 Glass Metal Industries Profile
Glassmetal Industries is committed to quality
A significant element of our quality system is the evaluation of, and use of approved suppliers. All of our major suppliers have indicated that they have quality systems or are in the process of implementing systems that satisfy the requirements of AS 3902.
It is our policy to supply the goods and services to overall effectiveness of quality control procedures appropriate to the product or services provided satisfying AS 1903.
Glassmetal Industries is committed to staff development
Career development of our staff is an ongoing process based on assessment of individual employees improvements before, during and after training.
We see staff training as playing a major role in our operations. It allows us to be more aware of the skills and abilities of our employees and their potential for multi-skilling thus providing opportunities for job variation.
Equipment
Modern well maintained equipment permits the Company to produce literally thousands of products of different shapes and sizes and requiring a variety of enamel applications and processes.
Our willingness to explore innovation and technology is illustrated by the recent installation of the latest computer hardware and software in our graphics and design department. We are currently investigating electrostatic dry powder application methods which will expand our manufacturing abilities and customer service.
Suppliers
All major suppliers to Glassmetal Industries have indicated their commitment to quality and have quality systems in place.
The steel used is a BHP product cv 4s2, and the glass, a Ferro Corporation product.
Small Business Award
In 1995 Glassmetal Industries was nominated by the Commonwealth Bank, Geelong, in the Telstra & Victorian Government Small Business Awards. Our Company was declared winner in the South West Region of the State.